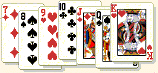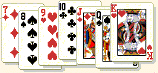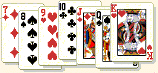 Bridge Groups
Vince-A-Rama
All those interested in playing bridge in the 2004-2005 Vince-A-Rama should sign up and pay the fee of $20 per person to the Senior Center by August 15. If possible, at least one member of each team pair should have been a bridge student of Vince Giuliano. Games will be played monthly from October through May and prizes will be awarded at a bridge party for participants in June at the Senior Center. For those who would like to play their games at the Senior Center, space will be available from 1:00 until 4:00 p.m. on the first Tuesday of the month from October through May. Those who prefer to play at home may continue to do so. If you are interested, please sign up even though you do not have a partner, and an attempt will be made to pair you with another player. Those who signed up at the June 2004 party still need to pay their fee by August 15. If you have questions, call Wendy or Jim Craig (973-4975) or Gina Paist (975-0366).
Bridge-A-Rama
Bridge Players Alert! Bridge-A-Rama will again be starting in September. This is a type of round-robin bridge competition, played in foursomes at the home of scheduled host or hostess. You play with the same partner but different opponents each month. The competition lasts until May when there is a dessert-bridge party with prizes to the highest accumulated scores. Each person pays $15 due at time of registration, any profits go to the Senior Center. Registration deadline is August 17. Sign up and pay at the front desk, a partner is required to register. Schedules and rosters to be mailed out by the first of September. Call Judy Brubaker for questions at 823-6679.
***
Bridge is a truly wonderful game, played by tens of millions, with many potential rewards. Bridge can teach you so many important things - it has elements of logic, partnership cooperation, discipline, psychology, mathematics and ethics.
Bridge is a game without barriers. People of all ages, races, nationalities and levels of skill enjoy the excitement of the world's greatest game. Bridge not only stimulates the brain and provides the joy of competition, but it is also an ideal setting for socializing with interesting people and making new friends.
From Classic Bridge Quotes by Jared Johnson
"No matter where I go, I can always make new friends at the bridge table."
- Martina Navratilova
"Bridge is the most entertaining and intelligent card game the wit of man has so far devised."
- Somerset Maugham
"Playing bridge reflects intelligence. It's one of the really great pleasures of life. I think anybody who's missing bridge is missing so much in life. Don't make the mistake of missing out on the fun of bridge."
-Malcolm Forbes