The Art Group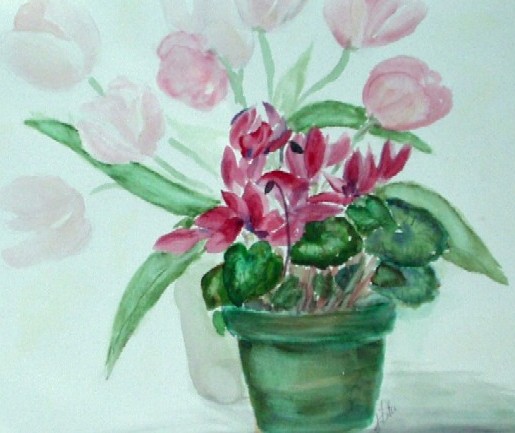 "Tulips" Watercolor by Judith Fike

Meet Judith Fike the artist:

Judith Fike, always an artist at heart, traveled extensively with a father, then a husband, who served in the military service. She has lived in Japan, Germany, France and many areas in the United States. While living in Japan for two years, Judith fell in love with the simplicity and symmetry of the arts of Japan and developed a fascination for all cultures and their arts.
Her interests lead her to the study of Harie' (pronounced har-e-a), a Japanese art that uses hand-dyed paper, then torn with a special stylus. The result is a collage that, from a distance, gives the effect of being a water color or oil painting. (Click here to see samples of Harie'
Judith's art has been purchased for homes in the Northern central states, and on the East Coast. In Charlottesville, she has exhibited at the Jordon Art Gallery, the Dogwood Institute as well as in the Albemarle County Building and the Airport. She is currently teaching Harie in the area.
Being a member of the Charlottesville Albermarle Art Association, the Shenandoah Valley Art Center and the BozArt Gallery, Judith wishes to further the appreciation of Harie' in Central Virginia, and to work with people to express their feelings through art.
Summer Exhibition is now in room A on the first floor at the Senior Center.
Seniors interested in drawing and painting gather each Friday morning at the Senior Center in the Arts and Crafts Room on the second floor. A still life setup is provided for subject matter and occasionally a model is engaged for portrait and figure studies. No formal instruction is provided, but members share their experience and knowledge with one another freely. Helpful critiques of work are given upon request.

The Group started in the early 90's and counts more than 20 members this year. We come from different walks of life and have a variety of interests, but the passion we have for beauty and color brings us together, and the goal of a community of artists helps strengthen our commitment to one another. We have bloomed into a cheerful group of friends. Some of us often go to lunch together after painting, and we share other retirement interests or family stories with one another.

The Group periodically exhibits its works in the Robey Room Gallery downstairs. Our art works are also on display in the hallway outside the Arts and Crafts Room.

The Friday Art Group meets on Friday morning from 9:00 to 12:00, as well as Monday from 1:00 to 4:00 p.m., in the Arts and Crafts Room opposite the elevator on the second floor. The Group welcomes all Senior Center members to visit or join us. If interested please contact Marion Hansen, Fine Art Group Chairperson, at (434) 974-5662.



---