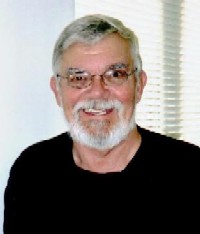 Meet Luther Gore the Artist:
"Luther has been part of the Charlottesville art scene since the late 1970's, when he started exhibiting in local venues such as the Barracks Road Art Fair. He helped to found the American Society of Aviation Artists as the Executive Secretary of that organization for about fifteen years. He has had a number of one-man exhibitions and has participated in numerous group shows. Luther's art works have been displayed at the Senior Center where he is a member for many years. He is a founding member of Art Upstairs Gallery on Charlottesville's historic Downtown Mall."
Seniors interested in drawing and painting gather each Friday morning at the Senior Center in the Arts and Crafts Room on the second floor. A still life setup is provided for subject matter and occasionally a model is engaged for portrait and figure studies. No formal instruction is provided, but members share their experience and knowledge with one another freely. Helpful critiques of work are given upon request.
The Group started in the early 90's and counts more than 20 members this year. We come from different walks of life and have a variety of interests, but the passion we have for beauty and color brings us together, and the goal of a community of artists helps strengthen our commitment to one another. We have bloomed into a cheerful group of friends. Some of us often go to lunch together after painting, and we share other retirement interests or family stories with one another.
The Group periodically exhibits its works in the Robey Room Gallery downstairs. Our art works are also on display in the hallway outside the Arts and Crafts Room.
The Friday Art Group meets on Friday morning from 9:00 to 12:00, as well as Monday from 1:00 to 4:00 p.m., in the Arts and Crafts Room opposite the elevator on the second floor. The Group welcomes all Senior Center members to visit or join us. If interested please contact Marion Hansen, Fine Art Group Chairperson, at (434) 974-5662.

---