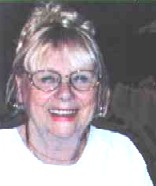 Meet Jane Johnson the artist : " I was born and raised in Northern Ireland, came to the USA, married and have five children.
I regretted not studying Arts when I was in College. I found it fascinating. Now that I am retired I have more time for painting and I enjoy it. My favorite medium is watercolor and my favorite subject is flowers.
At the Senior Center, I found many wonderful friends and art buddies in the Friday Arts Group who have helped me a great deal".