GrandMa's trip Home (1) Looking for a Buddhist
Temple. August 2000

My mom in L.A
Email: Jenny <-> The Temple in Den Haag
Jenny:
Dear Venerable Sir,
My daughter lives in Den Haag and My sister and I live in Virginia U.S.A.
We all are planning a trip together to Vietnam to bring my mother's ashes to the family mausoleum in Hanoi. It would be a great pleasure for me and my sister to spend a few days in DenHaag to visit Holland, however it's traditionally inappropriate to keep the ashes inside at home ( my daughter's) : it has to be in a Buddhist Temple, considered a sacred, pure and peaceful place.
May we ask your Venerable if we could bring the ashes to stay at the Temple for the time we stay in Den Haag with my daughter (5 days to a week).
We would appreciate it deeply. It will be this winter, in mid-January because the ceremony can only be held toward the end of the Lunar calendar year which is the beginning of the solar calendar.
My daughter's name and address is :
[...]
I am looking forward to hearing from you.
In the Dharma,
Jenny Hoang
===============================================================-----Original Message-----
From: Secretariat [mailto:---@l]
Sent: Thursday, August 17, 2000 5:55 AM
To: jennyhoang
Subject: RE: I am a Buddhist in The U.S.
Dear Jenny Hoang
We have discussed this matter with our head monk.
You are most welcome to preserve the ashes in our Temple while you are
staying in The Hague.
The addres of our the Hague temple is: [...]
Feel free to contact us in due course.
Yours in the Dharma,
Secretariat
BUDDHAYANA CENTRE NETHERLANDS
===============================================================
Jenny:
Dear Venerable,
Thank you so much for your kindness and generosity. Our trip is being scheduled for the first/second week of Jan.2001 and we plan to stay in The Hague for a week/ten days. As soon as we get our flight from the U.S. to Amstersdam booked, we will let you know the exact date. My daughter address is at:
[...]
Could you be kind as to tell us how far the Buddhayana Temple is from her place? and whether we can get there by train from Amsterdam?
In looking forward to hearing from you, dear Venerable, please accept our
most respectful salutations.
In the Dharma
Jenny Hoang.
===============================================================
Email:

Jenny <-> Dan thu
I got a very warm welcome from both Temples. It feels good. I love it.
Now we have to find out which one is closer to home , between the airport and your place. Do we get off the plane in Amstersdam, coming from the States?
I will schedule with Hanoi and Vinh-yen for your arrival and will let you know asap so you can book your flight. Postponing the sightseeing trip is wise, you and I we can do it together and have fun later.
I have already sent you the news from Ekayana Bud Center, a Chinese Temple who understands what this trip of leaving the loved one's ashes with them is all about. They wrote to me via Hotmail. Enclosed is good news from the Buddhayana Center.[...]
Jenny
================================================================
GrandMa's trip Home (2) Sending for
the Ashes
Email from Jenny -> The Buddhist Temple in Den Hagg
-----Original Message-----
From: Jenny Hoang [mailto:--@ibm.net]
Sent: Sunday, September 10, 2000 11:49 AM
To: bhiksuni Ratana
Subject: RE: Mother's ashes .
Dear Reverend Ratana,
I am grateful for your constant support and love. First I worried that you might not accept our request, now I worry that you might not be there when the package arrives.We were planning to go to L.A to pick up the ashes and to send it ourselves, because I would not be able to forgive myself if something happens to it. But then your suggestion to have it sent over gave me confidence.
So this is what I am going to do right now:
Plan A
1- Call the Temple in California.
2- Ask them to see if they can help sending AirMail Special Delivery to the Temple.
(I have a question on this matter : Is U.P.S better than Federal Express?or vice-versa
Or do you have a carrier that works better on the States - Netherlands route?
If plan A does not work, I will have to use:
Plan B
1- Either I'd go to L.A right now and do the packing and sending myself.
2- Or find a friend in L.A.who is willing to help.
If plan A and B don't work, We will have to refer to plan C that is:
1- Go to L.A. in late November hoping that you will return from Taiwan in time for the arrival of the dear package.(I am not fond of this idea at all, Reverend Ratana) We will have to think of something. But right now I am going to make some phone calls.
No, there is no weather problem right now where I live. Winter coming is the problem: We wouldn't be able to go anywhere if there is snowfall. I cannot go to the Netherlands to be with my daughter when she takes off for VietNam in Jan 2001. That would be the worst month of the year to travel for me.
I will come to visit you next Spring. Allow me to keep in touch with you regularly now about things as they unfold. Thanks for being there for us. Much gratitude! Please hang in there with me. Your support is precious.
May the Light of Truth shine forth,
Respectfully,
Jenny
=================================================================
Email: from Jenny -> Dan Thu
Dan Thu,
I found the perfect person for the mission !!! My friend Kimme was not only very bright and resourceful, but tough and patient too, who could decide on the spot about what needed to be done and not being intimidated by anyone. She started planning the mission right after I called.
It was Sunday when she came to the Temple where Grandma's ashes was. The head Monk was busy, (Sunday ceremony) he wanted her to come back another day. She respectfully said "No, "ba" (grandma) has got to go to Europe tomorrow. There is no alternative". After a while the Venerable Monk said : "Ok you can take it home, pack half or it and bring the rest back here tomorrow."
She said :
"I am sorry Sir but I can't, I think we need to do something here and you are in charge. I want to burn some incense for her so please help me pray. Please tell her what is going on, that she will go to Europe then go home." (In other words, you do your dance now,). The Monk finally did the routine prayer and gave her 1/2 of the ashes in a plastic bag. Kimme got what she wanted but said she would repay his worth. They are (her husband and her) going to give him a new monitor and will help him set up an email network for the Temple.
Congratulations Kimme! Good job!, I said.
They have packed the ashes nice and tight and would send it tomorrow to the Den Hagg Temple. She said it's all white granulated powder, very pretty. She said on the way back from the Temple, she sat the ashes on the passenger seat and talked to her about her trip to Europe. She said she felt very comfortable and love toward her. When grandma was alive they got along well. "Ba" was very fond of her.
I myself have talked to the head Monk in L.A. We had a very nice and unformal chit chat. I felt good.
Kimme also had experiences with "ashes" going to Vietnam. She said not to worry, the airline and custom never bothered anyone . But I will have all the papers ready for you, to be safe. I feel so good.Have a nice week
xoxooo
Jenny
==============================================================
Email: Jenny, Kimme & Dan Thu <-> Reverend Ratana
Dear Reverend Bhiksuni Ratana,
My dear friend Kimme has done it well for us all. She sent the package today. She also emailed you and sent me a copy of the message. I just want to thank you once more for everything. I am looking forward to hearing form you when the package arrives.
In the Dharma,
Jenny.
=============================================================
-----Original Message-----
From: kimme nguyen [mailto:--@socal.rr.com]
Sent: Monday, September 11, 2000 7:10 PM
To: --@casema.net
Cc: Jenny Hoang
Subject: special package
Dear Ms. Ratana,
I'm Kimme who's Jenny Hoang's god sister. Through my sister's instructions, I just sent you "the special package" by international express mail of the U.S. postal service today. I was told it should reach to you in 2 to 3 days. The serial number for this "guaranteed" package is : EK920695859US. Please let us know when you receive it. Thank you very
much for taking care of our dear Mom/Grandma...
Sincerely,
Kimme
============================================================================
GrandMa's trip Home (3) The Ashes have arrived in The Hague.
Dear Mrs. Hoang,
I just received the package, well packed and well kept. it will sit here
until your daughter comes and collect it.
Be happy.
bhiksuni Ratana
--Buddhist Ass.Netherlands
============================================================================
----Oorspronkelijk bericht-----
Van: Dan Thu Nguyen
Aan: bhiksuni ratana
Datum: Thursday, September 14, 2000 10:30 PM
Onderwerp: Re: My Grandmother's ashes
From Dan Thu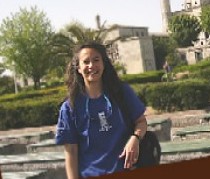 Dan Thu
Dear Bhiksuni Ratana,
I understand that the special parcel has arrived safe and sound from California. I would like to come by to visit you at the temple this Sunday, if that is convenient for you. Please let me know if that is OK, and what time would suit you best. I would also like to make an offering to the temple, but I don't know what would be most appropriate; could you give me some guidance here, please?
All the best
Dan Thu
====================================================================
Dear Mrs. Dan Thu Nguyen,
Late Sunday morning would be fine. It would leave you with the rest of the day to yourself. I cannot guide you on offerings; I'm not allowed to express myself on these things.
Tot zondag, bhiksuni Ratana
===============================================================
GrandMa's trip Home (4 ): The Temple
in Den Haag
Email: Dan Thu <->
Jenny
Dan Thu:
The Temple.
It's very peaceful, very clean, very sparse, very bright and airy. There is an altar with a small statue of the Buddha, a picture of the various boddhitsavas and other important acolytes, flowers, lights, incense holders, etc. There is carpeting under foot, and mats piled up on the side, for meditation, I guess. Grandma's ashes are in a box
Jenny:
What kind of a box is she in?
May be when you are in Nepal you can get her a nice Tibetan box?
Dan Thu:
... The place is perfect. Clean, quiet, peaceful: a good place to rest for a weary long-distance traveler.
Jenny:
We did a good job, didn't we ?
Dan Thu:
And the bhiksuni? A small slightly plump person, with the open smooth face of a boy-monk, strangely enough. Actually totally gender-less.
Jenny:
Typically a Chinese Buddhist Nun.
Dan Thu:
Very friendly, very open, full of life, but a different kind of life. Perhaps I should say "full of light"?
Jenny:
I like what you said.There is life and life. The life that means light has a lot of "space" in it.
Dan Thu:
She had lots to say to me. First of all, she said she was very surprised at how much ashes there was.
Jenny:
So would I !
Dan Thu:
The ashes hava a fine kind of light beige-grayish colour, with little black bits as well.
Jenny:
And Kimme said it was white. That's why she declared it as "flour" (!)
Dan Thu:
So the Nun had a serious "chat" with Grandma, explaining to Grandma that this was just a temporary stop on her journey to her final resting place, back home in VN, and that Grandma should not "hang on" to anything or anybody here,
Jenny:
You meant grandma might like it there ? Well, that sounded like her alright ! She was very curious and very adventurous by nature, she probably enjoyed the trip and the place.
Dan Thu:
I will come back check up on Grandma, i.e. talk to her, and make sure she still got the whole point of this bizarre situation. So the bhiksuni gave me the keys to the place (!)
Jenny:
So much trustful they are. I am impressed..
Dan Thu:
She says she'll light the incense, have a chat, and do whatever is necessary. I'm still stunned.
Jenny:
So am I. Wow! that was quite a story!
Dan Thu:
She asked if I knew how to pray. I said, "No, not really, but I think it's OK, 'cause I'm doing it with a good heart." She smiled lightly, took the flowers I brought and left the room to put them in a vase. So she left me there, alone with Gerdy, to fumble with the incense sticks. I thought that was pretty cool, i.e. she was not too uptight about the "proper" way of doing things
Dan Thu:
OK. I'm back home now, doing my own kind of meditation by washing 3 days' worth of dishes and 2 loads of laundry. Had a cup of herbal tea to calm down. And tried to figure out how my life got to be this way: so full, so interesting, so challenging, so unexpected. Came up with no answer, but felt pretty happy.
Gerdy (Dan's friend) was so totally excited about this whole project, that she was allowed to be a part of it, and she really wanted to see it through to the end. So she's even contemplating going to VN with me to follow through the ceremony at the cemetery. Why not, I say. People from different cultures should be encouraged to meet each other. It might make the world a better place.
Jenny:
That is really cool. I think you 've hit the nail on the head. My thanks to Gerdy who promised to bring flowers every week. About the cash offerings, a 2 digit check would be fine now and then.
=================================================================
GrandMa's trip Home (5) In the news..
with Herbert Paulzen.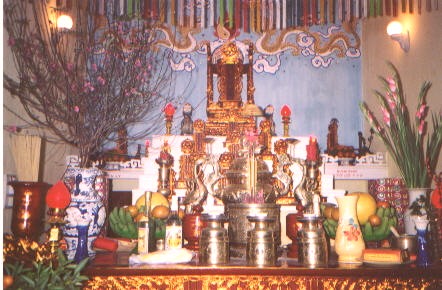 The Shrine in Vinh-Yen, Hanoi
Travel writer Herbert Paulzen tells of encounters on the road.
In a small capitalistic café I met Dan Thu Nguyen, a Vietnamese woman from The Hague, Western pop music in the background, beer, cozy atmosphere.

Dan spoke of how she and her family fled to Canada in 1958 [trans.: this is incorrect; DTN was born in 1958.].

Fate and love later brought her to The Hague.

Her country of birth was a closed book.

Until 1986 when "doi moi", the Vietnamese perestroijka, was established.

When her grandmother passed away in the early 1990's, the family wanted to lay her ashes to rest in a family temple in Hanoi.

After many years' absence, Dan's mother went back to Vietnam, renewed contact with family there, and then returned home to raise funds.

Once she got the little temple built, she turned to Dan to finish the mission.

"It took two days to ship Grandma from Los Angeles to The Hague," said Dan. However: "The ashes should never be kept in a private home but in a Temple." Fortunately, there was a small Buddhist temple in The Hague where the ashes could stay until Dan finished sorting out her travel plans to Viet Nam. She went looking for an appropriate urn. It had to be a vertical, strong, and preferably metal container. She settled on a beschuittrommel [trans.: beschuit is Dutch dry toast, and as it is round, it is usually kept in a cylindrical tin]. "I asked if I could exchange it if necessary. 'Of course,' said the saleswoman, 'if you keep the receipt.'" Her flight was at about midnight. That day she went to pick up the ashes. "I put Grandma on top of the mailboxes inside the front entrance of the building, with some candles and incense. I had informed all the neighbours. But one neighbour had come home late, knew nothing about it, saw the tin and gave Grandma a good shake."

Then the x-rays at Schiphol Airport. She had to have a look. "I wanted to see what Grandma looked like in the tin." And in Hanoi? "No problem… The officials didn't want to have anything to do with the ashes. It's bad luck. Go go… The nephews, nieces, cousins, uncles and aunts also wanted to deal with the ashes immediately, so we drove straight from the airport to the family cemetery." Grandma has now been properly laid to rest, in the presence of a relieved family.

05-2004 Plus Magazine, p. 133




"My Mom" by JennyHoang



---
Back to front page